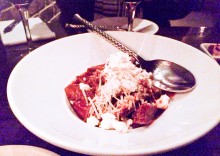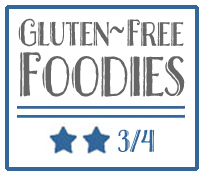 Walking into the original Cava Mezze location in Rockville, you can always expect the bar to be crowded and the tables full. This has been true of the small restaurant since opening, and a testament to their consistently good food, service, and drink options. Another great attribute of Cava Mezze is that they are consistently good at being gluten-free friendly as well.
The Cava Mezze location in Rockville is dark with tables tight together, noisy, and will probably require a wait (they don't take reservations). Don't let any of this deter you. Pull up  a seat (or likely stand) at the bar and enjoy a drink while you wait; it will be worth it.
Cava Mezza is small-plate dining so plan to order several dishes per person, and to share. The staff will start off by delivering an assortment of dips and olives with pita, but they substituted cucumber slices immediately upon hearing we were gluten-free. To start off our first round of orders, our waiter shared with us the list of dishes that were gluten-free and the ones that could be adjusted as well. There were many dishes we were able to order (and did!), but the ones that stood out the most were the kale and beet salad, braised beans, Brussels sprouts, village pork sausage, pork belly, braised beef, and scallops risotto.
The server steered us away from dishes that would lose their integrity with altering for gluten-free dining, which is always appreciated. He also did an excellent job choosing dishes that could be made to accommodate a gluten-free diet. One dish adjusted for us was the pork belly, which was seared in a pan instead of fried. Crispy pork belly, thyme and honey resulted in perfectly-balanced flavor in one bite. Another was the braised beef served without the fries. The beef tasted like someone's grandmother had lovingly braised it all day–tender, flavorful, and with a hint of cinnamon in the rich sauce. The Brussels sprouts, again pan seared to keep the dish safe for gluten-free diners, were crispy, flavorful, and plated atop yogurt that had a hint of fresh lemon.
If you enjoy wine, I encourage you to try Greek wines when visiting Cava Mezze. My favorite Greek white wine (Moschofilero) is great to order with a round of lighter dishes and then switching to a Greek red (Paranga last trip) for the dishes requiring a bigger wine to pair is always a fun option.
Cava Mezze is a consistently good go-to hangout for after work drinks and appetizers, or a dinner out. You can expect the staff to be knowledgable about gluten-free dining, the kitchen to be accommodating, and the food to be good.

Cava Mezze
Locations in
Capitol Hill 202.543.9090
Clarendon 703.276.9090
Rockville 301.309.9090
Website