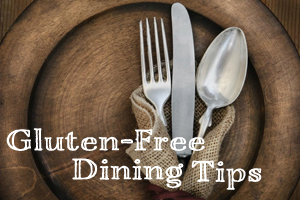 How to dine out gluten-free doesn't have to be a frustrating experience. Here are a few tips on how to make dining out gluten-free a more enjoyable experience.
It is important to understand it is not the sole responsibility of a restaurant to provide a positive gluten-free dining experience for people with Celiac or gluten sensitivity. Instead, it is a partnership for the diner and restaurant staff.
While the restaurant reviews on this site are focused on providing the gluten-free community with lists of restaurants worth visiting, this article is specifically about diner responsibilities to making the meal out the best it can possibly be. Yes, some restaurants fall short on staff education and meal options, but others, with a little help from the diner, can be a great experience.
How to Dine out Gluten-Free
As early as possible, communicate you are a gluten-free diner. Enter the information in the comment box on Open Table every time you make a reservation. If a restaurant requires phone reservations,  tell the person booking.
Upon arriving at the host stand, announce you are gluten-free to find out if there is a separate menu to be delivered to the table when seated.
As soon as the server arrives, alert him you are gluten-free and ask what the easiest way to place an order will be.
Pack crackers for delicious dips or spreads you might want to try.
Be patient. It's unfair to expect a server to remember every ingredient in each dish being served. Allow them time to consult with the kitchen staff.
Overall, it is important for gluten-free diners to be patient and proactive to increase the likelihood of having an enjoyable meal out.
Do you have any tips on how to dine out gluten-free?
Share below!