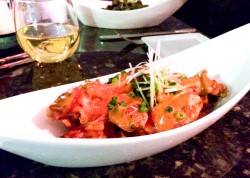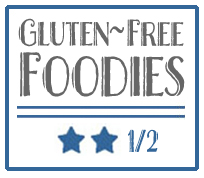 Walking into Maple Ave Restaurant, it's immediately apparent you are about to experience something different. An intimate space (roughly 40 seats), it feels more like walking into a big dinner party than a restaurant. Sometimes small, tight spaces bring out the worst in diners, but looking around Maple Ave Restaurant, it's clear everyone is happy to be at the party. It's hard not to be excited right away about the food experience happening in the room.
Playful and fun aren't typically adjectives used to describe food, but with chef Tim Ma at the helm of Maple Ave Restaurant, I can't think of a better way to describe the culinary experience of Ma's cooking. And it's clear Ma is fearless in the kitchen–whether that he is impervious to the risk of bad reviews or just has enough confidence in himself as a chef–Ma doesn't stick to a style, cuisine, or tradition, but rather has fun playing with dishes. This means you can start with an Asian-inspired appetizer, move on to a Southern creole dish, and then enjoy an Italian-inspired entree. And it somehow works.
Perusing the wine list means flipping through the "Drinks and Sweets" book, which looks more like a scrapbook project than a restaurant list. In the "notes" section in the back of the book, staff encourages diners to write comments about their experiences too.
The waitress was unsure of what would be safe for gluten-free dining, but she was accommodating, asking the kitchen for clarification when necessary. Thankfully, most of the menu could be created (or already was) gluten-free so we didn't have to miss out on much of Ma's creative dishes.
The starters posed a serious challenge. The creme fraiche wings took tremendous willpower to not lick our fingers in public (or the dish itself). The well-seasoned wings in a Korean sauce were topped with the creme fraiche for a perfect start to the night. Then came the Thai okra. The okra slices released garlic chili lime sauce with each bite, making them an addicting second act. Ma's take on shrimp and grits included blueberry venison sausage and the addition of okra to the dish–both outstanding additions.
The small plates were so good, it's tempting to stay there. Don't, though, because the entrees are just as inventive and fun. Two in particular were the Morrocan chicken with pearl cous cous (served with a timbale of rice to make it gluten-free) and the seared scallops on coconut risotto with basil ice cream. With all we sampled, I can't imagine anything bad coming out of Ma's kitchen.
A wine that was able to successfully pair well with most of the meal was a lovely New Zealand Pinot Gris (Mt. Beautiful) for only $38 a bottle too. Maple Ave Restaurant is small and popular so making reservations is highly recommended.

Maple Ave Restaurant
147 Maple Ave West
Vienna, Virginia 22180
703.319.2177
Website