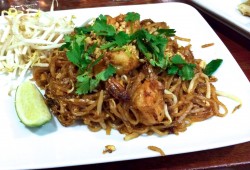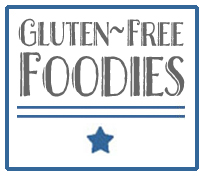 I love pad Thai, which is why I could barely contain my excitement about dinner at Nava Thai. The restaurant is one of two Thai restaurants with the honor of being on Washingtonian's 100 Very Best List for 2014. To me, this meant I would be enjoying one of the best pad Thai dishes in the DC Metro area. Or so I thought.
It was a rough start with explaining what I can and can't eat, and no one on staff could articulate ingredients in dishes. Our server said spring rolls were safe, which they could have been if they had not been deep fried–a cross contamination nightmare. The bad service wasn't just limited to helping me eat safely in the restaurant. Drinks that were ordered never made it to the table either.
Fortunately, the lemon beef salad with chili lime sauce made up for the spring roll disappointment. Cilantro, lime, and the perfect amount of heat to accompany the flank steak salad. Also good was the satay. The curry seasoning tasted fresh and the peanut sauce was not the cloyingly sweet, thick sauces one can expect at too many Thai restaurants.
I was told all the curries for the entrees are pre made and contained gluten. The string beans in chili curry sauce was apparently safe though. The green beans were slightly under cooked, but the smoky, spicy, sweet sauce made up for the overly-crunchy beans.
The pad Thai–a favorite, and definitely a go-to safe dish for gluten-free diners, was a letdown. As in, I-won't-eat-here-again disappointment. Have you ever reheated leftover pad Thai? If done in the microwave, the sauce is absorbed into the noodles, leaving you with a gluey consistency that just doesn't taste like the night before. What was served to me was a resemblance to the microwave version when reheating at home.
My expectations for Nava Thai were low knowing Asian cuisines are not the easiest for gluten-free foodies. If I had great pad Thai, it would be worth this visit as well as future trips to Nava Thai. What a disappointment. And not what I was expecting from a restaurant that made the esteemed Washingtonian list. If an establishment is on a top restaurant list, diners should expect great food, service, and pad Thai any night of the week.

Nava Thai
11301 Fern Street
Silver Spring, MD 20902
240.430.0495
No website