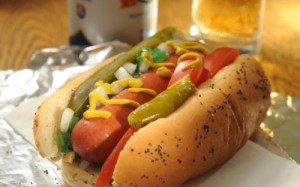 The best kept gluten-free secret is this: one of the top sausage companies on the market exclusively makes gluten-free dogs. I know you likely don't believe me, but I have proof. Beautiful pictures, descriptions of the varieties made, and even a store locator link so you can personally taste these delicious dogs.
I actually discovered these sausages one day when I was rushing through the grocery after work to pick up a few items. I stopped abruptly at something I was sure I misread: gluten-free beer bratwurst. There's no such thing, right? That's what I thought too, but with my nose pressed on the glass of the refrigerated meat case, I realized they did exist.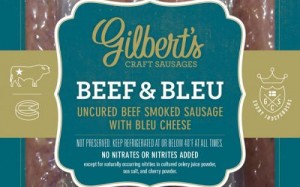 Then I saw the gluten-free beer bratwurst box of Gilbert's Craft Sausages did not sit alone. The brats were in good company with "the froman" (beef frank), chipotle mozzarella & lime, and beef & bleu varieties. It gets better. The sausages aren't just gluten-free, but also have no nitrates, corn syrup, MSG, or any other preservatives. And they are delicious.
Gilbert's founder spent a great deal of time perfecting the recipes, wanting to provide only small-batch, unique, high-quality sausages.  The partners, Eric and Chris, have been working together since 2011 to provide gluten-free sausages in the marketplace.
I highly recommend you find a local source (or order online), and stock up on these awesome dogs.
NOTE: Recently added, but not tested by us, are the chicken bratwurst with sautéed onions and beef smoked sausage with cheddar.
Find The Best Kept Gluten-Free Secret in Your Neighborhood