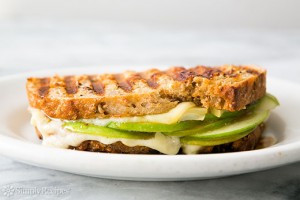 Claiming something the best ever is a big statement, and typically hyperbole. I promise you my statement of the best gluten free sandwich is not. I am also not going to get our gluten-free foodie friends excited, only to share some obscure sandwich shop in a tiny midwestern town not many people can visit. Instead, I am going to give you the tools in your home to make the best gluten free sandwich anytime you would like. This information, however, is only going to be immensely helpful if you are gluten-free and love paninis like I do.
I have not found a restaurant that could serve me a gluten-free panini, which has been a bit depressing because I clearly remember how delicious they are–fun combinations of cheese, meat, and condiment choice; sometimes the addition of fruit (brie and apple or pear); or just a delicious veggie sandwich grilled to perfection with gooey cheese holding it together. Yum.
I missed paninis more than Girl Scout cookies, which is why figuring out a way to make paninis at home and be safe was a life-altering culinary experience. We do not have a dedicated gluten-free kitchen in our home so cross contamination is something that means no small appliances like waffle irons and toasters are options for me. Obviously a contaminated panini press would be another appliance that would lead to me being sick. Until I discovered the Cuisinart grill and panini press
with removable, dishwasher-safe grill plates. So, unlike the waffle iron that can't be immersed in water, placed in the dishwasher, and likely never be totally free of gluten, I can safely clean the grill after gluten-eating family members use it. And best of all, it's under $50.
If you are wondering about bread options, Schar makes deli style bread
that is long like an artisanal loaf, soft, and perfect for grilling. It's the only bread I use for paninis and I highly recommend it for panini making.
Tell me: what is your favorite combination of ingredients for a panini?