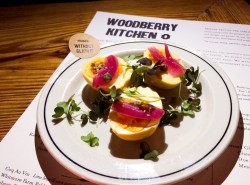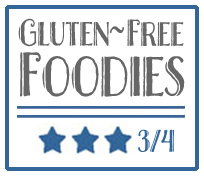 Do you know what happens when an old mill is repurposed, plaid shirts are doled out by the dozens, and a commitment to the farm-to-table movement is upheld? I do: culinary magic happens. And, thankfully for Washingtonians, it happens daily in Baltimore at Woodberry Kitchen.
Woodberry Kitchen has a laid back, relaxed vibe to the restaurant with the staff all in plaid and denim. It has a rustic feel from the building and decor, but also  from the menu. It immediately brought me back to simpler times–picking vegetables in my grandmother's garden, canning projects, and simple, well-made meals. The only thing missing from those lovely memories of my past the night at Woodberry Kitchen was the sound of a screen door slamming.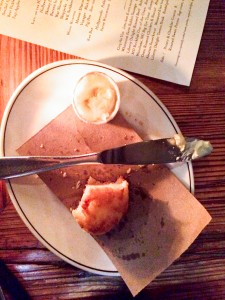 Even better than meals of my childhood, these dishes were made in the present, which requires them to be gluten-free. Going beyond what most restaurants do for gluten-free dining, they blend their own gluten-free flour and make all crackers, rolls, and bread loaves in house. While all of the gluten-free baked products were excellent, they had me at the flaky, light, just-like-my-southern-grandma-made biscuits. Eating my first (but not only) biscuit that night reminded me of the first time I had a gluten-free French baguette–a special experience that will stay with me a long time.
While I could write another 300 words about the breads, I will move on to the gluten-free menu, which states at the top: "We believe in the importance of offering the season's best to all of our guests, even those with specific dietary needs." It left me feeling welcome to be there instead of my presence being a hassle for the staff and chef. Just the opposite here, with the server enthusiastically telling me I am in for a treat with their gluten-free menu and breads (she was right). Also to note, all gluten-free dishes are brought out with a sticker on the side of the dish denoting it is gluten-free.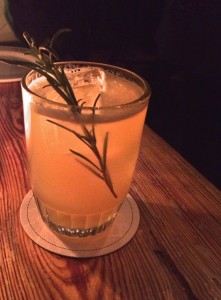 Something else that immediately stands out is the exceptional drink list. The wines-by-the-glass selection is quite impressive, not offering just a few whites and reds, but offering a depth of varietals for oenophiles who want to pair each course properly, but not order a bottle per course. And, not to be ignored is the cocktail section of the drink menu. Woodberry Kitchen makes craft cocktails, some house-made spirits, mixes, and a very creative list of drinks. Not one to choose a cocktail over wine, I made an exception with this list, opting for the whiskey smash (bourbon, honey, house-made bitters, lemon, sparkling cider, and rosemary).
With cocktails in hand, we started our dinner with pickled beet eggs and deviled eggs. The latter tasting like the eggs my grandmother made. The smoked rockfish dip is another great starter option, served with crudite, apples and gluten-free toast. The dip was smoky, fresh, with a hint of heat.
The radicchio and chard salad was a creative dish with all the flavor profiles working well together–ricotta, smoked pecan brittle, small bites of butternut squash, and chipotle ranch dressing. If soup is preferable over a salad, the roasted tomato soup would be a great choice. It's smoky, earthy, with a brightness from fresh basil, and a drizzle of olive oil to top it off.
One thing I can't pass up is the opportunity to have anything fried gluten-free. It's rarely an option for us gluten-free foodies so I typically indulge at any chance. At Woodberry Kitchen this meant ordering the braised beef with grits, spinach, pickled green tomatoes, barbecued oysters, and  fried okra. Also a great dish is the oven-roasted chicken and biscuits, allowing for another opportunity to eat a gluten-free biscuit before leaving.
If there's room after the meal, there are dessert options. Our favorite was the coffee toffee nut dessert, which is scoops of coffee ice cream drizzled with a toffee sauce, candied pecans, chocolate bits, and whipped cream.
It's clear owners Spike and Amy Gjerde believe that not one aspect of the restaurant should outshine another, or, maybe it was happenstance. The freshness of the ingredients, the creativity of the dishes, exceptional service, cocktails, atmosphere, and even the coffee (which can be an afterthought in some restaurants) were all on equal footing. The only complaint I have for the entire dining experience is that it created a yearning in me to return soon and often, which is not possible with our site's current restaurant review schedule. Instead, I look forward to reviewing the Gjerde team's other restaurants: Shoo-Fly and newest venture Parts & Labor.

Woodberry Kitchen
2010 Clipper Park Road No. 126
Baltimore, Maryland 21211
410.464.8000
Website