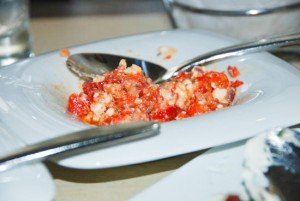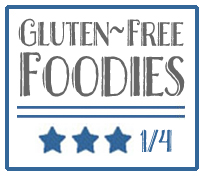 Zaytinya is located in the Penn Quarter section of DC, and is one of the many successful José Andrés restaurants in the DC Metro area. This Andrés restaurant allows diners to explore the cuisine and wines of Greece, Turkey, and Lebanon with an expansive wine list and menu from this region. Zaytinya is an airy space with simple interior design, a large bustling bar, and dining areas on either side.
There is a gluten-free menu, making ordering easy, but many dishes on the regular menu could also be adjusted for gluten-free dining. Our waiter impressed us, asking if gluten-free was a preference or medically necessary. Knowing this distinction is important at Zaytinya because bread touches the grill used for cooking most of the meat. Some meat dishes, however, can be made in a pan for safe gluten-free dining.
Everything on the menu at Zaytinya is served as small plates, known as mezze. Ordering several dishes per person and sharing is recommended for a fun dining experience.
The baba ghannouge and tzatziki are great starters and and well prepared at Zaytinya, but the htipiti stands out in line up of spreads–marinated roasted red peppers with feta and fresh thyme plated atop a roasted red pepper puree. And, if you have an accommodating waiter as we did, you just might leave that night with the recipe for htipiti. All three can be accompanied with cucumber slices for a gluten-free alternative to pita.
The octopus Santorini was one of our favorite dishes. The octopus is grilled and served topped with marinated onions and capers with a split pea puree. Another favorite was the sautéed shrimp with tomatoes, green onion, kefalograviera cheese, ouzo, and feta.
Instead of using the fryer for the crispy Brussels sprouts, our order was prepared in a pan. The sprouts were accompanied by a garlic yogurt, which was a nice balance in flavors. Had we not ordered so many dishes to try, there would have been a second plate of sprouts requested. Other stars on the menu are the lamp chops with tzatziki, beef with lettuce wrap, and salmon bil zanzabir.
We enjoyed the food, wine, excellent service, and environment. Visiting Zaytinya is a great night out for a gluten-free foodie.

Zaytinya
701 9th Street, NW
Washington, DC 20001
202.638.0800
Website