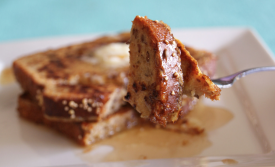 One would think there couldn't be anything more lovely than a woman who started a company called Virtuous Living. That is, until you learn the names of her products. Faith, Hope, and Love are the three seasoning blends sold by this Maryland-based company. All products are 100% organic, gluten-free, kosher, halal, and non-GMO. Additionally, seasonings are prepared at an HACCP-certified, dedicated gluten-free facility.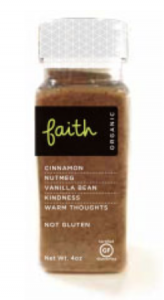 While we have enjoyed all of the unique blends, the one to earn a permanent spot on our spice wall is Faith. Unlike the savory Hope and Love, this one is perfect for sweet treats. Faith contains cane sugar, organic spices, vanilla bean, Himalayan pink salt, and organic cinnamon. We sprinkled it on sweet potatoes (roasted and baked), in a mix for French toast, topped muffins before placing in the oven, in pancake mix, as a sugar cookie sprinkle, and in oatmeal. I am sure we would have tried it in more dishes had we not run out of our four-ounce jar.

Hope is a combination of dried herbs (rosemary, oregano, parsley, savory, thyme, sage, tarragon) and spices that works well on a variety of foods. We enjoyed adding it to melted butter and slathering on a chicken before roasting.
Love is a great blend for a variety of dishes as well, but stood out as an excellent rub for barbecue with the mix of salt, pepper, cane sugar, and various spices. It's also great on roasted potato wedges.
If you are interested in trying all three, the Virtuous Trio is more economical with the discount given. Each jar can be purchased individually as well. The prices are higher than what we pay for some of our other favorite seasoning blends, but a company with a great product, dedicated to safe production, and our ongoing addiction to Faith , it's worth the investment.
Learn More about Virtuous Living
Website
Email: hello@virtuousliving.com
Tel: (301) 690-5311 (Mon–Fri, 10 a.m.–8 p.m. EST)