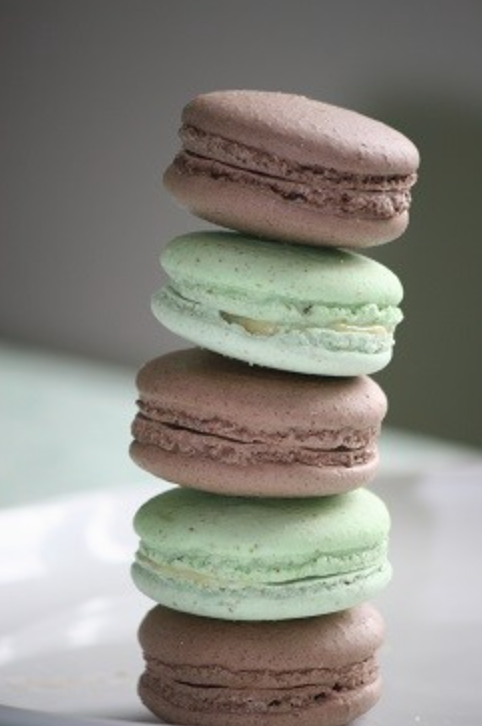 Meeting Ruth and Renee, sisters and co-founders of La Jolie, was a pleasure. They are warm, friendly, and passionate about their gluten-free macarons. Telling them that in addition to the box of five, I was buying a bag of pumpkin macarons for Thanksgiving, seemed to genuinely please them; they were excited their creations were being served on a special day.
I walked away from their booth at a local farmer's market happy to have met them, and to open the package of macarons. What I found in tasting the assorted flavors was Renee and Ruth should be so enthusiastic about their company; they have a product worthy of all their excitement.
These little gluten-free gems are airy, chewy, with an explosion of flavor that finishes with a delightful creme filling  finish. A box of five includes their popular flavors: lemon, chocolate, pistachio, strawberry, and dulce de leche. In the late fall they were selling a seasonal flavor as well: pumpkin. For us La Jolie enthusiasts, we can look forward to dark chocolate salted caramel and cherry blossoms this spring.
There are several ways to purchase these so you can also bite into these delicious gluten-free treats. La Jolie ships, but the minimum order is two dozen. As of this writing, they are also available at both SPAGnVOLA locations (Kentlands, National Harbor), Dawson's Creek (Rockville), West Wing Cafe (Rockville), and Sprout Cafe (Rockville). Renee and Ruth sell at local farmer's markets seasonally as well. To find out up-to-date information on where La Jolie is available, visit their website.