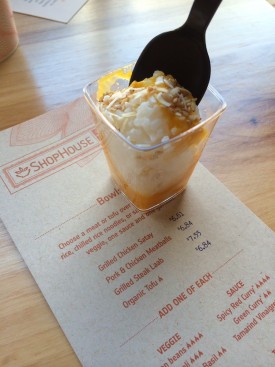 ShopHouse is a flavor-packed, fast-casual dining experience that also happens to be gluten and dairy-free. The restaurant doesn't offer gluten and dairy-free options, but rather is completely free of these two allergens in their restaurants. ShopHouse is a blend of the cuisines typical in Thailand, Vietnam, Malaysia, and Singapore, and is a new restaurant concept from it's parent company: Chipotle.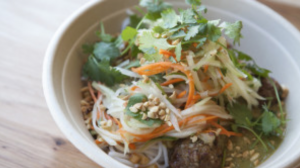 The ordering process is identical to Chipotle, with diners going through the line choosing from a variety of ingredients that are fresh, organic (when possible), and includes ethically-sourced meats. Starting with a bowl of rice, rice noodles, or salad, the options then include adding one protein, vegetable, sauce, and garnish to create a unique dish. I found the pork and chicken meatballs well seasoned and moist. The grilled chicken satay was another great meat choice I enjoyed on another visit. Of the four vegetable options, the green beans and eggplant and Thai basil are standouts. Each bowl can then be topped with one of three sauces, three garnishes, and four toppings to finish off the custom-made dish. And, if the heat level isn't enough, there's plenty of Siracha to top off your bowl.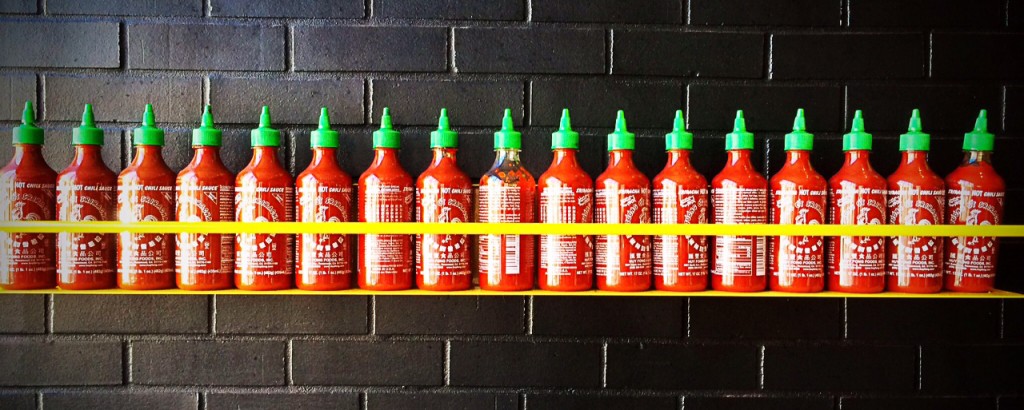 If there's room after the bowl, the Coconut Rice and Mango Parfait is a bite-sized treat to end an almost-perfect meal. The big miss for ShopHouse is the beer selection. For promoting gluten and dairy-free dining as part of the restaurant concept, they don't offer any gluten-free beer.
ShopHouse just started opening restaurants in 2011. There are currently six in the D.C. Metro region (with a seventh location opening in Rockville) and three in California. Hopefully they will be popping up in other U.S. cities as fast as Chipotle.
ShopHouse